Writing a Press Release that Works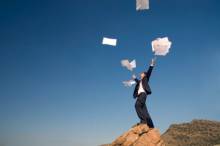 To have the desired impact a press release needs to be well written and correctly formatted. It also needs to be truly newsworthy; otherwise it will be rejected as spam. Here is some advice for crafting a press release that will get results and enhance the image of your company or venture:
Write Professionally – It takes just a minute for the savvy reader to discern if a press release is properly and professionally written. Using slang, inappropriate punctuation (lots of exclamation marks), and bad grammar, will all turn off the reader and will certainly make sure that your release is not republished on any reputable news site. If you are not sure that you are up to the task yourself, consider working with someone who is.
Don't Be Too Wordy – Shakespeare was a wonderful playwright but he would probably have made a dreadful press release writer. Using an excessive amount of words or language that is simply too flowery is unnecessary and distracting when it comes to writing a press release that captures the attention of all its readers. On the other hand, using words incorrectly or writing like a second grader will turn just as many people off.
Open with a Bang – The headline, summary and first paragraph have to grab your reader's attention. They should summarize the important details about your news clearly and simply. You have plenty of words left to go into more depth once your reader is hooked. You should also identify yourself early in your release too; otherwise you will lose potential promotional value if someone is just skimming your piece.
Pick Your Angle and Stick with It – Make your press release timely and ensure that it has a good hook. Tie your news to other recent events or hot topics of conversation for maximum impact. Most importantly though, stay on topic and stick to the facts that matter.
Tell the Truth and Nothing but the Truth – People are intelligent enough to recognize that if something sounds too good to be true it probably is. Don't make wild claims about your new product or service or the success of one of your employees. Stick to the facts, otherwise your press release will read more like a bad advertisement than a newsworthy article.
Limit the Jargon and Do Not Keyword-Stuff – A press release with SEO is an ideal marketing tool, but it has to be effectively optimized. Key word stuffing annoys search bots and their search engine masters and irritates your human readers. Use keywords sensibly and sparingly and do not insert them just to get them in there. For instance, even if your SEO guru has told you that "land for sale Washington" would be a great key phrase for your company it is hard to use it sensibly in a press release. The same holds true for jargon–save it for the boardroom.
Proofread, then Proofread Again – Composing your press release in a word processing program that has a spelling and grammar checker is the most sensible course of action, but do not rely on it completely. If you write "pear" instead of "pair" few programs are going to point your error out to you. Proofread the piece yourself and then have someone else read through it, too. A second set of eyes can often spot mistakes that you overlooked.
Make the Most of What is Available – If you have the option of adding photographs, audio, or video to your press release, do so. In the multimedia world in which we live such things can help your press release really stand out from all the others.