OnlinePRNews.com Review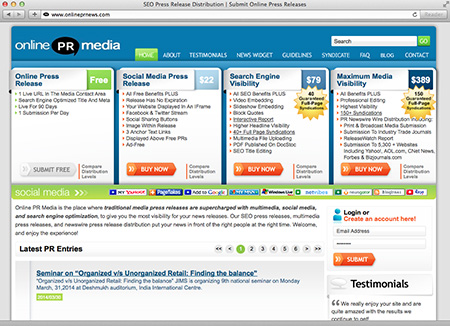 ---
Online PR News Review
In order to make sure the world knows about things that happen in your business, you have to write and send out press releases.  Even if you only want your local geographical area to be aware of the things you do, you have to make sure the press and media get wind of it.  In order to achieve this, you must write a press release and you have to make sure this is received, and read, by the relevant media outlets.  That is what Online PR News is there to do for you however.  They are an online press release company with a sole goal of making sure that your news ends up on the desk of those who need to be aware of it.
Distribution
Online PR News has a variety of services on offer that allow you to make sure your press releases are of high quality and get distributed at the right level.  They have various packages available for you, and the pros of each of these packages are laid out clearly so that you are able to choose the package that will work best.  They are effectively their own comparison website, allowing you to always make sure you choose the best option.  Additionally, they have a really good FAQ section that allows you to have any questions answered in terms of how things are distributed and where to.
Customer Support
The website is incredibly user friendly.  As stated, it is like its own comparison website, as it allows you to look at which package you need for each of your press releases.  Additionally, they have really high standards in terms of their overall customer support.  They offer a variety of different video guides that can help you in terms of how to create a better press release.  These are delivered in such a way that you can either follow step by step instructions, or you can choose to implement parts of them in your own work.
Unfortunately, there aren't any  truly special features with Online PR News, but the fact that there are many testimonials from happy customers may mean that there simply no need for any other features.
Features and Benefits
There are different packages available, and these each have different features and benefits.  The first is the online press releases package, which lets you:
Send out one press release every day.
Include a single URL link in your media contact area.
Having titles that are fully search engine optimized.
Have a press release that never expires.
Should you choose the search engine visibility package, then you get the above, as well as:
The benefits of social media.
The ability to include other types of multimedia, including videos or slide shows.
Fully interactive reports with information that you can use to improve your own service.
Increased headline visibility.
A full page, over 40 syndication.
The ability to include different types of media files.
Access to DocStoc, through which you can create PDF files.
With the maximum visibility package, you get everything in the previous packages, as well as:
Access to a professional and quick editing service, meaning your press releases are as good as they can be.
Over 150 full page syndications.
Distribution across the newswire, which includes broadcast, print, trade and industry journals, watch reports and various websites including AOL, Yahoo and CNet News
Editorial Review Timeframe
Editorial services are only offered if you choose the maximum visibility package.  The service is highly professional and Online PR News also prides itself on delivering a very quick service.
Social Media
One of the things that sets Online PR News apart so much is that they have a social media press releases.  These include:All the benefits of the other packages.
The choice to take adverts out of your press releases.
Various social sharing buttons, so that any of your posts can be spread on social media platforms very quickly.
It also includes text links.
Any press release you create will be much higher than anything a free press release website can offer you.
Pricing Structure
The prices depend on which package you are going to choose from.  Firstly, they have a free press release service, which only allows a single, online release.  A lot people find that this is more than enough, because it covers all the necessary things that you may need, and you can include a URL.  However, it is generally recommended to purchase one of the slightly more expensive packages.  These are:
$22 for the social media package.
$79 for the search engine visibility package.
$349 for the maximum media visibility packages.
The different between the free option and the $22 option is huge, which does tell people that they may want to invest a little bit more.  With this option, you can include images or logos, iFrames of your website, social media sharing buttons and more.  Additionally, if you choose the cheaper option, then your press release will also show advertisements for other companies.
If you want to have further control over what you do, then the $79 is probably best.  As this package also allows you to add multimedia, and slide shows in particular, it really offers something that no other can.  Furthermore, you immediately get access to interactive reports and full page syndications.  This means you can really track how well your press release is doing.  Of course, the release will also look a lot more professional because it is free from advertisements.  The added search engine visibility is certainly also very beneficial.  This means that it will be visible a lot more often and appear on people's screens more often.
Finally, there is the most expensive service.  This allows you to monitor and edit in greater detail, but its goal is mainly to make sure your press release is distributed as widely as possible.  It looks at both printed and online media and works on specific industries and trades.  Furthermore, you will receive a full report on how this works, known as ReleaseWatch, which shows you the thousands of websites that your press release is available on.  In other words, you are then able to monitor not just the efficacy of your release overall, but even on an hour to hour basis if you are interested in this.
Overview Review and Conclusion
Online PR News truly is one of the better quality press release services available.  It offers everything you could possibly need and makes sure the features match up appropriately for everybody, regardless of their budget.  The only downside is perhaps that their most expensive package is so much more expensive than most other services. One of the items that does stand out however is that it easily allows you to work out which press release package is most suitable for you. This means that you will never spend more than you actually need to with their service. Additionally, it must be said that their packages are very affordable, except for the top one. The testimonials available online for Online PR News are very good as well, which shows via social proof that others agree with my assessment. This is a no-nonsense service that focuses strongly on user-friendliness and making sure you are easily able to find exactly what you need. Considering the fact that most of us are not journalists, and news releases are something that is difficult for some to actually create to get the word out to the world, this is one of the most important features. As such, I fully recommend Online PR News to any business.
Visit Site →