Newswire.com Review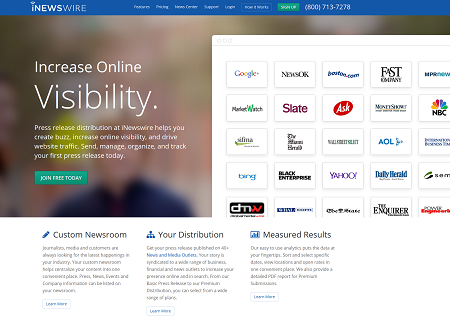 Reach
Online Distribution, Targeted Media Outreach, Journalists, Social Media Sites, Influencer Marketing
Visit Site →
---
Newswire.com Review

When it comes to online press release distribution, larger names like PRWeb and BusinessWire come to mind. However, the industry is evolving and some providers have risen in the ranks. Newswire is one of them.
Newswire is a press release distribution platform established in 2004. Over a decade later, they have become one of the top press release distributors on the web by offering unparalleled customer service and unbeaten value.  When Newswire first began operations, they felt there was a need for small businesses and individuals alike to have a way to tell their story and publish any announcements regarding their company.
Up until that point, online distribution was seen only as a big corporation type of marketing plan as the costs did not match the financial budgets and restrictions that of a small business or startup. Equipped with Newswire, small businesses and individuals now had an outlet they could use for their public relations and marketing efforts.
In 2004, this was the mission statement of Newswire and since then they have expanded to not only meet the goals of small businesses and individuals but have now grown to assist major corporations and companies. Growing to a PR 5, with an alexa of 14,529, Newswire appears to be expanding their services and customer base.
Distribution
Newswire offers three types of online distribution and a media database, offering a marketing plan for any company size and budget:
Premium – Newswire's press release distribution offers great value. With the Premium distribution, a press release is published on 50+ authority news and financial sites ranging from PageRank of 9 to 3. In addition, it will be included in Google News and popular news outlet, DigitalJournal. One standout factor of this premium distribution is that they do not charge extra for any media attachments. Logo, images, videos and documents are allowed to be embedded to the press release at no extra cost. In addition, a customer can choose to add up to 3 links in the body of the press release.
Premium Plus – With Newswire's Release Plus distribution, a customer will be able to take advantage of added distribution to PR Newswire at a significantly discounted price by going through Newswire. Earlier this year, Newswire partnered with PR Newswire to offer customers PR Newswire's distribution outlets at same value prices Newswire customers are used to. With this distribution, a customer receives Newswire's Premium distribution along with PR Newswire's distribution outlets totaling typically more than 250+ sites publishing the press release. With PR Newswire the press release is distributed to key areas such as: Yahoo Finance, Yahoo News, BizJournals, major news outlets and TV networks (ABC, CBS, FOX, NBC local affiliates). It is the same distribution one would get with PR Newswire at a greatly discounted price through the partnership with Newswire.Media Outreach – In addition to their online distribution channels, Newswire now offers a media database to reach targeted editors, journalists and bloggers. With a database of over 1.6 Million+ media contacts, customer's can leverage this to get their press release and news to targeted lists for even further distribution. This allows for customers to expand their reach and coverage in a targeted precise manner.
Customer Service
Customer service is where Newswire looks to separate itself from the pack. They offer all-around customer support from Live Chat directly on the website, to Phone Support and a Help Desk ticketing system. Typical response time is within minutes and if a customer has a question during off hours, they can expect to hear back within 6-12 hours.
For any potential customer who has any questions prior to signing up they go through any explanation step-by-step in a personalized manner. They even follow up with customers to make sure everything with their experience is going as expected.
Features and Benefits
As mentioned earlier, Newswire has developed a suite of marketing tools to go further than the typical online distribution process. These features have been to create to suit the needs of customers from the start of the process to continuing value of their published press release long after it has been submitted.
Newswire offers writing services to any customers in need of press release writing. They have an experienced and diverse team of writers in all industries/niches. Newswire works closely with customers to write the press release as accurately and getting the message out effectively as possible.
With the media database, Newswire makes it possible to target contacts based on keyword, industry, niche and geography. Newswire has a growing database of 1.6Million+  contacts that members have full access to.
Newswire also has a dedicated section for analytics and metrics, the Analytics section. There customers real-time view, distribution sites, google results & social media stats of their published press release. In addition, they can download their results in an easy to understand PDF report for them and for their clients.
One exciting new feature of Newswire is the Company Newsroom and SocialWire feed. Here Newswire takes social media marketing and pr to the next level. With this feature, the viral power of social media and authority of a press release combine to take a press release to new heights. In a customer's Company Newsroom, their content and social media is displayed all on one visually pleasing SocialWire. Displaying all press releases, news and social media content, this Newsroom becomes the go-to hub for all up to date information regarding a customer's company. In addition, this room can be configured to be hosted on a company's URL for even more seamless integration.
Editorial Review Timeframe
Timing is everything and Editorial review is probably the step that most of us dread. Waiting for the press release to be reviewed and to be notified is a pet peeve of ours. We are happy to report that Newswire has one of the fastest Editorial process we've experienced. After submitting the press release, we were notified that the press release is under review. About 2 hours later, we did receive a notification that is was approved and will be published at the scheduled date and time.
One thing to note, the time is EST which is fine for most customers, since Newswire is headquartered in New York City. I believe you can set the timezone to schedule where you are located. For example, if you are on the West coast, you can set your timezone at PST and your press release will be published based on your profile settings. We like this feature, since it gives us more control on when to actually push it out on the wires.
Note, We've spoken to Newswire regarding typical editorial timelines and they informed us that their staff is working around the clock to process submissions in their queue. Thumbs up to this. Our Premium Press release was processed in very timely manner. We feel that the Basic PR would be handled the same. In regars to their PR Newswire distribution, they said there is a 4-6 hour lead time, which is understandable considering the cost savings and process.
Social Media 
Social media is everywhere and Newswire is no stranger. As mentioned above, in their Social Newsroom feature they offer a useful and slick way to pull in all your social media newsfeeds in one place (called their SocialWire). For those who fancy social media, Newswire makes it easy to share your news and promote your content across Facebook, Twitter, Google Plus and Email. The social widget is place in the HOT ZONE, the holy triangle on the page. We found  the buttons placed correctly with the rest of our press release.
In addition to the share buttons, Newswire has a feature where it can publish your press release automatically to your Facebook and Twitter profile. The process is simple. You just need to authorize the platform to post under your Social Settings. Once set, you have the option to have your release posted to your account.
Pricing Structure
The pricing structure at Newswire is an interesting one. If you are doing more than one press release per month, they have very attractive pricing for their starting monthly plan. If you fall into this category, we feel that the Gold Plan is the sweet spot to maximize the benefits each month. Depending on the number of press releases you do for any given month, you can easily ramp up or throttle down. Flexibility is key here and you are not locked in to any long-term contracts, which we love.
If you are on the other side of the coin and you need only a single press release for yourself, then you can purchase a single press release. They have a free version and its an ok start but to fully maximize their distribution, you should definitely invest in their Premium.
For those looking for the maximum coverage, they have an exclusive partnership with PR Newswire where you pay a significantly reduced cost. We were upgraded to this plan as part of the review and we must admit, we are quite pleased with the results. In fact, we received the same Visibility Report that we have purchased at full price. This is a  no-brainer for anyone looking to excellent coverage at a fraction of the cost.
On a budget? They still offer a free press release distribution on their website and it does get indexed in search, but we would recommend their Premium and Extended Premium since you essentially getting a similar distribution at a much lower cost.
Other things to consider are the Newsroom and Media Database. From our research, a comparable service would have you pay $100 for the newsroom per month and for the Media Database, at least $5,000 as year. Newswire's platform offers so much for those looking for the most value and excellent coverage for their press. Remember, having all of these features under one roof is a time saver and makes each piece of the process seamless. This alone would be a huge timesaver when you need to other things with your online marketing and content marketing.
All in all, the platform is solid, albeit its chock full of features, you might be overwhelmed when you first login. However, once you get the hang of it and connect with their customer support the rest is easy peasy.
Overview Review and Conclusion
With the ever-changing world of online press releases, Newswire is making sure to change with the times by enhancing customer experience as well as their services.
With all these features and more, Newswire has made sure to become an essential marketing suite for any company small or large.
They are continuing to develop new features and improve their service. From where they stand 10 years ago, it is very exciting to see how far they go and expand to in the next decade.
Visit Site →