MarketWired.com Review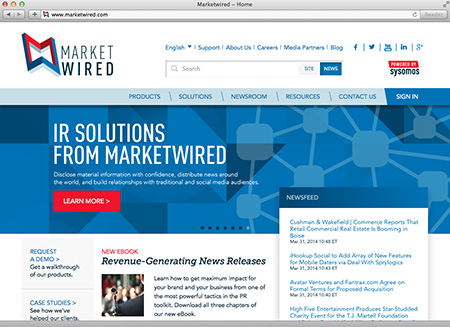 ---
MarketWired Review
Public relations aren't just about sending out a press release.  There are many other factors that should be taken into consideration, and MarketWired.com is right on top of it.  They offer everything from monitoring to tracking, from blogs to news rooms, from media monitoring to case studies and from SEO to social media.  What they want to do is make sure you are able to write your press releases and see what sort of impact they have, in a world where PR is everywhere.  This should allow you to be able to identify what your company's strengths and weaknesses are.
Distribution
MarketWired uses a few different techniques to distribute your news items.  They have a huge database of journalists that receive the online press releases and through whom content distribution works.  Additionally, they offer filing services and regulatory disclosure.  They also distribute their releases through newsroom hosting, which allows you to immediately have a huge reach.  They media contact database is truly impressive, which means that you can really manage how your content is distributed.  In order to achieve all of this, they have a fantastic piece of software to help you.
Customer Support
MarketWired customer support system is interesting but complicated.  They have a support landing page with the various categories of products they offer.  As a user, you then need to decide which area you need help in, and you can then raise a support ticket if the knowledge library isn't sufficient for you.
The knowledge base is very useful, however, and it allows you to make sure you learn how to create better press releases and how to increase your brand awareness.
Features and Benefits
MarketWired allows you to stay on top of up-and-coming tweets, blogs and groups.
You can test your ideas, such as product concepts or other ideas, on a real audience.
The package allows you to see just how effective your campaign is and how it is doing.  This also means you can see how people are starting to view your brand.
The distribution network is huge and can be tailored to your specific needs, as they include local journalists, popular tweeters and international companies.
Both the communication and marketing platforms are truly advanced.  They allow you to make sure that you send the right messages out at the right time, to the right people.
You can easily find out what sort of stories are trending, and what is in the news at that time.  This, in turn allows you to make sure that your releases are actually current and interesting.  Searching through current news is very easy and can be done by using stock symbols, keywords, topic, type, industry and so on.
Because you can also see other people's information, you are able to learn from others and hence optimize your own views as well.
They have a fantastic translation and editorial services, which means you can also target your releases geographically.
Editorial Review Timeframe
The time frame depends on what it is you want doing.  However, one of the things that make MarketWired stand out is that your content is updated simultaneously.  This means that you can easily avoid making very silly mistakes.  Also, it means that your output is always fully optimized.
Social Media
One of the benefits of MarketWired is that they offer fantastic social media monitoring, as well as providing analytics.  Additionally, they have strong links to Facebook, Twitter, YouTube, LinkedIn and Google+.  A strong focus is placed on Twitter, as MarketWired always keeps track of trending Tweets and Tweeters.
Pricing Structure
The costs depend on what your own needs are, as MarketWired does not offer any one size fits all packages.  However, the basic cost is $145.  Additionally, their goal is to make sure that you are able to see a true return on investment.  As such, they also make sure you have the ability to track whether you have seen your revenues increase thanks to your press releases.
Overview Review and Conclusion
There is one significant drawback to MarketWired, which is that you cannot really look at the system or what they offer without registering.  Registering means you have to fill in a bunch of questionnaires, which are designed to make sure you are offered the package that you actually need.  This is positive in a sense, but most people would like to see some practical work in action before they decide to sign up.  Additionally, you cannot find out how much your registration will cost until you actually go through the questionnaires.  This can be somewhat off putting.
However, the company offers some absolutely amazing features, which really goes into their favor.  They are truly dedicating to making sure they follow the rules and deliver what they promise.  Their press releases are sometimes truly out of this world, which demonstrates how much assistance they provide to their members in terms of writing the right kind of content.  Additionally, since they have such strong social media links, it is clear that their reach is so wide.
They have some really good monitoring services available to their customers, as well as an out of this world media distribution network.  This means that anybody can use the system, whether they have experience in writing press releases and media content or not.  Those who are just beginners will really be able to develop their skills, and those who are already quite well-versed can make sure their skills are still up to date and current with new rules.
At the same time, however, it is a site with a lot of distraction, which can make things a little bit difficult for those who simply want to catch the attention of the media.  They offer a truly personalized service, which means that you need to be quite aware of just what it is you're looking for yourself.  Going in bind, in other words, is not quite the right road to take.  However, if you know that it is time to take your company to the next level, then MarketWired is certainly the site to go to for your press releases and other media marketing.
Visit Site →