eReleases.com Review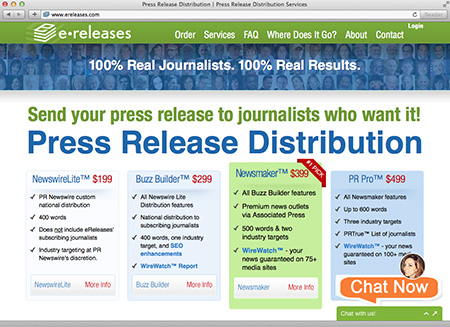 Reach
Journalists, Targeted Media, Online Distribution
Visit Site →
---
eReleases Reviewed
If something newsworthy in your business happens, you want to tell the world about it.  Only by having regular newsworthy items will you be able to raise greater brand awareness and make sure that people know who you are and what you do.  In order to achieve this, you can send out press releases to relevant media outlets.  However, unless you have somehow managed to collect the email addresses of all journalists in the world, you will struggle to really get the reach you are looking for.  This is where eReleases comes in, a company dedicated to making sure your press releases reach the people they need to reach.
Distribution
eRelease is very scathing about the variety of free and cheap press release websites that are currently popping up in the market.  They go so far as to say that these sites actually do not work at all.  Instead, they want to make sure that you get the services you need, for a price that is fair for both parties.
In order to achieve this, they make sure that your press releases are sent out to relevant partners, rather than just being spewed out for everybody, including those with no interest, to see. They will help you create a truly focused release that will be found by bloggers, journalists and other individuals that really need to receive that information.  As such, your press release will be written in such a way that it is accessible and interesting for your target audience as well.
Because their distribution is so focused, writers, journalists and bloggers only receive press releases if they have said that they actually want to receive them.  Hence, you know for a fact that they already have an interest in what you have to say.  The result of this is that they will actually read your release and write a piece on whatever it is that you are offering.  Additionally, eReleases has a very good relationship with one of the best newswires out there.  For you, this means that they have a huge database of journalists, bloggers and writers who actually want to hear what you have to say.  Indeed, they currently have over 100,000 journalists on file to send your information to.
Customer Support
The website has an excellent FAQ section that can teach you everything that you need.  They have a few very good video guides around as well, for further information.  A lot of people prefer to have video information rather than reading things, which is exactly what this offer.  Additionally, eReleases is very keen to work together with their customers, which is why they always ask for feedback.
Whether you have a question or whether you have something to say, you can do this via email, telephone or live chat during their regular opening hours.  Additionally, the team is there to make sure that you can review any changes they suggest together.
Features and Benefits
The company offers a number of features and benefits, which include:
Knowing that your press release will only go to those who actually have an interest in what you have to say.
Their database of journalists is one of the biggest in the industry, with over 100,000 journalists who have all individually opted in.
They offer a range of different packages, meaning that you can find one that suits your specific needs and your budget.
They have a range of different popular categories, including books, automotive, education, electronics and environmental issues.
The educational section of their website is very comprehensive.
They have a very good PR newswire distribution system.
When you send a release, you will receive a proof of distribution report.  Additionally, you will be included in the Association Press's newswire.  This means you can get national distribution and you will also appear on Google News.  Additionally, any press release will go straight into the online newsroom.
Editorial Review Timeframe
The editorial review timeframe depends on which package you choose.  However, you also have the opportunity to choose the press release writing service, which is a wonderful tool for those who haven't had any experience with this type of writing.  They have a very quick turnaround and a guarantee that your release will be written within a week.
Additionally, once you have access to the system, you will be provided with a range of tools and articles that help you make sure have a quicker turnaround.
Social Media
eReleases has a strong social media presence.  They are known on Twitter, Facebook, Google+ and LinkedIn.  Additionally, they have a very handy RSS feed services on their website as well.
Pricing Structure
eReleases offers three different packages, which are all priced differently.  Additionally, it is possible to receive a discounted rate if you purchase multiple press releases.  You can keep using these for a year after your purchase as well.  The packages are:
The Buzz Builder, which starts at $299.  This allows you to create press releases that can be up to 400 words in length.  These have just a single industry target, however.
The Newsmaker, which costs $399.  Through this package, your press releases can be as much as 500 words in length.  Additionally, they come with two industry targets.  Most importantly of all, your press releases are guaranteed to be placed on at least 75 different media websites.
The PR Pro, which costs $499.  With this package, you can create press releases of 600 words in length.  These can be sent to up to three different industry targets.  Additionally, you are guaranteed that your press release is going to be placed on at the very least 100 different media websites.
Overview Review and Conclusion
eReleases is a very fair priced service, which really goes in their favor.  They stand apart from all the others by the fact that they make sure their press releases focus specifically on journalists that actually have an interest in what is being said.  As such, there is more of a guarantee that it will also be actioned upon, rather than ending up in someone's trash can.
However, one thing you will probably notice when you visit their website is that they are very big on advertising themselves and their greatness.  It is perhaps true that they are one of the better ones out there, but there is no need to keep reminding people about this, particularly once they have already chosen to go with eReleases.
This really is the press release website to go for if you want to make sure that your news items end up on the desks of the people you want to reach.
Visit Site →