BusinessWire.com Review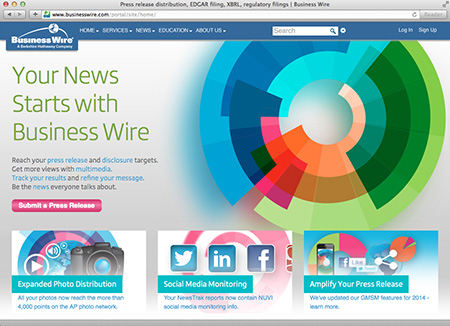 Reach
Mainly business media outlets, online and offline
Visit Site →
---
Business Wire Review
If write a press release about a new product, new business or anything else, you have to make sure that people will actually get to see it and read it. Of course, it is very easy to find contact details for some of your local newspapers and simply send them an email.  This doesn't guarantee they will actually pay attention to you, but if you send things often enough, you may just be able to build up some sort of relationship with them.
A much better option, however, is to work together with a wire service.  This means that you work together with a company that is dedicated solely to ensuring your press releases go out to their massive online network of journalists and websites.  As an added bonus, these companies ensure that your press release will also be indexed on the major search engines, like Google, Bing and Yahoo!.  Hence, if anybody is looking for a product or service that you have to offer, they will find you.  One wire service that stands out from the crowd is Business Wire.
Distribution
Business Wire claims to be the most connected of all wire services around.  Indeed, no other site is able to offer the same number of inbound links, which currently stands at 983,154.  They have many features that make them stand out, including the fact that all their news releases include free graphics and logos.  They also have an EON service, which essentially means that your press release will be available on their website forever.
Business Wire makes sure that your content and news items go where they have to go.  They use the NX worldwide network, which is actually patented.  This means they have partnered with 60 news agencies both here and abroad.  Their list of media outlets contains 89,000 addresses, which span 162 different countries.  Additionally, some 92,519 have subscribed to their service.  This is important, because it means that when a journalist receives your news, it is because they have actually asked to read this sort of information.
The company offers 1,676 different types of delivery options, and they also offer translation services for 50 different languages.  This is so that you can work specifically on your own geographical area.  Additionally, they have 200 different industry categories, so that you can make sure that your press release ends up where it should be.
Additionally, they have the GMSM feature, which means you have an even wider reach of communication.  This focuses specifically on global-mobile-social-measurable (GMSM) communication.  They have a huge network of blogs and websites that all the press releases get sent to.  Furthermore, they will help you create an attractive and effective press release that can be viewed on mobile devices as well.  You can also add social networking buttons, so your release can be shared on all the different network.  Finally, you will receive full reports of how well your press release is doing, and this also includes social media engagement analytics.
Customer Support
Business Wire offers various methods of contact for their customers.  This includes email and telephone.  Additionally, they have an easy to use contact form.  All of these methods can be used by both members and non-members.
Features and Benefits
Business Wire has an absolutely fantastic reputation, which is built on their experience and the fact that they focus strongly on innovation.  They have a massive reach, which is why they are so popular amongst investors, marketers and anyone else involved in public relations.  Some of the things they offer include targeting, distribution, financial disclosure, measurement & analytics, event news services and media & journalist tools.
As such, they are not just about issuing press releases.  They also want to make sure that you are able to do your financial disclosures on a global level as and when they are needed, as well as any news you have to offer.  Furthermore, there are a number of special targeting options that allow you to measure exactly how well you are doing.
Business Wire has been around for over 50 years and have always been working on critical communication in one way or another.  They don't discriminate either, and are happy to work with a brand new mom and pop corner store, or the largest Fortune 500 Company that is out there.
They have a very mixed offer of broad media, which includes:
A fantastic newsroom, targeted specifically on your geographical area, both nationally and internationally.
The GMSM platform, which means your news will go to all the most popular mobile apps.  This also works on your SEO efforts.
Newswire services that include the Dow Jones, the Associated Press and Thomson Reuters.
Contact with all the major daily newspapers, including the Wall Street Journal and USA Today.
Full Text posting, which includes enhanced online news (EON).  Your press release will be available through thousands of different websites, including various online news syndicators.
Over 150 vertical market trade media categories.
Editorial Review Timeframe
If you need help in writing your press release, Business Wire can help you through a range of different tips and tools.  This can teach you just how you can make sure that your press release is fully search engine optimized, so that it will capture the attention of your readers.  They do not, however, offer a full writing service.  There are also no details about how long editorial reviews take.  However, it is reasonable to assume these reviews are very quick.
Social Media
If your news release is in English, the GMSM feature will make sure that you also receive the social media monitoring report.  Hence, you are able to review how much of your social media activity is having an effect.  The report will tell you how much volume you have, how people feel about it, where people are reading it, who your influencers are and more.  This is incredibly important information.
Pricing Structure
Unfortunately, Business Wire is known to be the most expensive news wire service out there.  All users have to pay for the EON at the very least, which was once an optional feature.  When it was optional, it would cost $75, which is how the prices have been upgraded as well.  If you are on a budget, you may want to choose to us a different news wire service.
However, Business Wire is keen to tell companies that they have various packages available, so there may be an option for companies on a budget as well.  Their lowest package costs $400, which includes a 400 word press release.  In order to find out how much you should pay, you would need to contact your nearest bureau.
Overview Review and Conclusion
Overall, Business Wire is a fantastic service, and this is reflected in their higher than others price.  Because of their pricing structure, they tend to be a more suitable option for larger companies.  Unfortunately the minimum of $400 for a press release is really expensive and something that smaller businesses will be unable to afford, particularly if they regularly want to send out releases to the wire to build up their business network. At the same time, it must be noted that Business Wire offers one of the best services out there in terms of news wires, which means that for the money you pay, you will also get one of the largest reaches. Experts in the field have suggested smaller businesses may want to choose Business Wire for their truly big and important news items, if it is indeed impossible to use them for each piece of news.  Business Wire is also one of the only news services out there that has a strong focus on mobile apps, which is important since a huge amount of online access is now done through mobile devices. Their packages are truly comprehensive and have been built through years of research and innovation, which means you know exactly what you get for your money. As such, although expensive, I fully recommend Business Wire to anyone that wants to have a massive reach from a very professional service.
Visit Site →