24-7PressRelease.com Review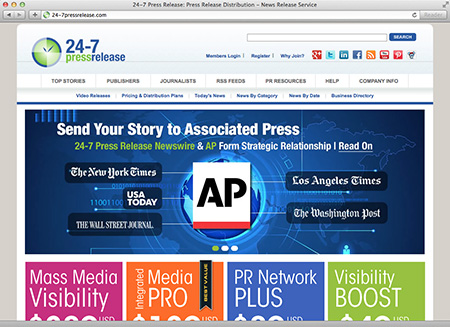 ---
24-7 Press Release Review
24-7 Press Release is one of the most comprehensive press release sites available. They have both free and paid options to choose from, which makes them very interesting. Their strongest focus is on newsworthy releases, and they try to move you away from advertorial type of releases as much as they can, although you can use them for advertising as well. The free press releases are obviously quite limited, with a maximum of one per day being available.  However, this may just be enough for you if you are a reasonably small company or an individual. However, the free options do not have a posting guarantee and the distribution is very limited. As such, it may be just what the doctor ordered if you are on a tight budget, but you can expect better results if you invest a little bit on your marketing efforts. The paid options truly deliver a very serious distribution.
Distribution
Distribution depends entirely on which of the four packages you choose from.  Each package offers a variety of services and the more expensive the package, the better the services are.  For instance, should you choose the "online visibility" package, then you can add things such as logos and files, as well as having additional editing skills.  Basically, this makes it possible for you to create something unique.  A package up from that allows you to focus strongly on online awareness, and distribution then also includes networks and various news partners.  Furthermore, you could even add videos to your press release.  The more expensive the package you choose, the wider your distribution is going to be as well.  At the top package, distribution is across 5,000 magazines and 5,000 websites, as well as a massive database of journalists and other online features.
Customer Support
Unfortunately, 24-7 Press Release is not known for its amazing customer service.  If you are new to the world of press releases, you may feel slightly at a loss.  There is an FAQ section available on the website, as well as other help functions, but many people find these don't really answer any of the really pertinent questions.  Additionally, only very minimal assistance is offered via the website itself.
Registration can be quite cumbersome, but navigation is reasonably easy.  However, the site is absolutely full of text, which means people quickly lose interest.  This is compensated, however, by the incredibly high quality press releases, particularly those from the paid for packages.  They really understand the importance of brand awareness, and this is what they deliver through their work.
It is possible to contact 24-7 Press Release over the telephone during office hours, or you can send them a request through the website itself.  Additionally, they welcome visitors to their actual offices in North Vancouver.
Features and Benefits
The site offers a number of distinct features and benefits.  These include:
Increased online visibility, particularly through SEO work that allows your company to be found on the main search engines.
All journalists on the database have actually opted in to receive press releases, which means that you know they actually have an interest in what you are trying to say.
You can add a lot of things to your press releases depending on the package you choose.  This includes images and logos, but also links and other types of multimedia.
The company also offers reporting functions, which means you can quickly see whether or not your press release is actually delivering what you expect it to deliver.
It is very easy to find other people's press releases, which you can read to gain industry information, but also to see where you can improve yourself in how you present your own news worthy items.
You can actually get in touch directly with various journalists and publishers.
It comes with a press writing service if you don't know where to start yourself, but you can also use the various press writing tips to make your own.
Editorial Review Timeframe
All press releases are editorially reviewed.  Additionally, it is possible to use the company's press release service, for those who don't know how to create quality content in a press release.  However, the website doesn't make it clear what sort of time frames are bound to this.  We know, for instance, that the SEO professional package can edit your press release immediately, with a guaranteed next day posting turn around.
Social Media
24-7 Press Release has a very strong presence on social media.  They have the standard Twitter, Google+, Facebook and Twitter, but they are also present on LinkedIn, Pinterest and even Rebel Mouse.
Pricing Structure
There are various pricing structures available through 24-7 Press Release, depending on their package.  They are:
Free releases, limited to one per day and with no guarantee of actually getting posted.
The Online Visibility package, where one press release costs $49.
The SEO Professional package, where each press release costs $89.  This package allows you to be found on the main search engines.  Additionally, your press release will have a social bookmark link, so that people can share your text easily.  Furthermore, the distribution service will send your release to all the premium news partners, including the Newswire Network.  It also allows you to create and watch video releases.
The SEO & Media Exposure package, which costs $139 per release.  With this package, you also get inbound links, which will build on your page integrity.  You will be distribute to both newspapers and magazines, all of which are U.S. based.  Additionally, your press release will also go through the 24-7 Press Release Twitter account, and you will also get a full report on your activity.
The Mass Media Visibility package, which costs $389 for each press release.  With this package, your press release is sent to thousands of national contacts.  Additionally, you will receive greater editing services, ensuring that your release looks completely professional.  Additionally, you will get priority over the other featured releases.  Finally, you will also get a clear report, which will include more than 150 links.
Overview Review and Conclusion
24-7 Press Release ranks as a very good press release service.  They could work a little bit harder on improving their customer service and customer assistance options, but there are signs that they are actively working on improving these already, which shows they are listening to their customers. Depending on the package you choose, you will be able to get a substantial customer reach for your release from their service. The fact that their service includes certain free packages as well really makes 24-7 stand out from the crowd. Their paid options are also highly affordable and actually some of the cheapest in the industry. Naturally, what really matters is how wide the distribution of your release will be, which is also not bad. The best reach is naturally available through the packages with the highest cost, but as such it is clear that 24-7 Press Release offers amazing value for money. Your reach is really dependent upon your budget, as with most press release services, the more expensive the package, the more people you reach. Furthermore, it must be noted that this service has a truly excellent social media presence, which is very important since social media is the network of choice for just about everyone nowadays. As such, I do recommend 24-7 Press Release.
Visit Site →